A CRM Software for every industry. Collect, Conceive & Collaborate with ease.
Customer Relationship Management (CRM) software is no longer a luxury. Having a CRM software that can automate certain processes and help managing teams, leads has become a necessity for all organizations.
The Wolfeo Customer Relationship Management software created by us focuses on helping organizations manage sales easily and offer customers a seamless experience of interaction. The product helps companies create a meaningful professional relationship with existing and potential customers by being super active in communications.
Communication is the key to get sales, retain customers and grow as well. With modules like email integration, chatbots, workflow automation, you are always in touch with the client and you know what they're expecting. Besides existing customers, a CRM software like Wolfeo will also help you track the interests, problems and services that a potential lead is looking forward to. Communication is not only important with the customer but with the internal team as well. With the Wolfeo Customer Relationship management Software all your employees working in the field and in-office will have complete transparency over ongoing communication & interaction with the prospect. Any requests like invoices, revised quotations can be resolved within minutes when the whole team is in loop.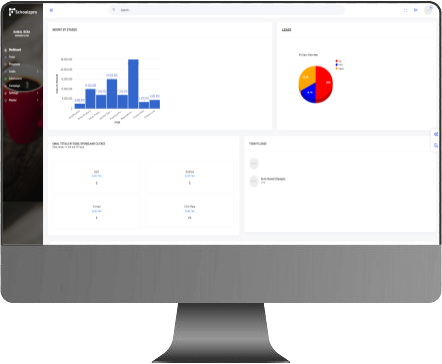 Usability: The first and foremost thing that comes to mind when going for a new tech is the usability. Whether the employees will be able to use it easily and migrate from existing software (if any). Wolfeo CRM software has a very smooth and easy to use interface that can be used by any non-technical person as well.
Scalability: The Wolfeo CRM Software is a scalable solution. It's quite understandable that your business is bound to grow over time, thus you need a CRM software that can accomodate new modules, store different types of data and allow more employees to track and use data simultaneously.
Security: Managing leads is not an easy task and any data leak will mean a huge loss to the company's sales forecast. Moreover a data leak in your customer relationship management software can reveal all secrets about your marketing strategy as well. To ensure security to the highest standards, all the incoming and outgoing data from the CRM is stored on a secured cloud server.
Migration: Like mentioned earlier, migration can be a big issue, but once usability issues are resolved the second problem lies in existing data to the CRM. Wolfeo allows you to migrate all your existing data whether from excel sheets or from another CRM very easily.
Web development services have a huge range of sub-services and we will help you with all of them.

Web Design
The best web development company in Gurgaon, should have a mix of wit, creativity, and experience in all sorts of niches. We build designs based on your needs and we make sure that web design created by us looks super impressive. An eCommerce web platform would need a more dynamic design while an informative website will have a more static and upfront design this understanding helps us create visual masterpieces.
Website Maintenance
We understand you have a product that's doing good but you need someone to help it keep doing that or maybe help it do better. For that, we can help you with website maintenance as well. We make sure the projects handed over to us are up and running always and any problem is sorted out with topmost priority.

Web Development
The core service, web development itself includes all sorts of web development services like Javascript development, WordPress development, custom website development, web application development, and more. We work on all these and with a wide range of technology at our disposal we can build you a platform of your choice in a short time interval.
Features
We've got many other features to tell you, why don't you just visit Schoolzpro's individual website to read more about it.
Contact Management
---
Add/Modify/Delete Leads.
Multiple User Login.
Lead Management
---
Different Priority Levels.
Track interaction, history & more.
Campaign Management
---
Create & deploy marketing campaigns.
Campaigns through emails, sms, etc.
Client Email Integration
---
Track Inbound/Outbound Emails.
Sales Analytics
---
Analyze Sales through multiple channels.
FAQs, chatbots
---
Install FAQs and chatbots.
Workflow Automation
---
Automate emails, invoices.
Add tasks for definite workflow.
Sales Forecast
---
Get sales forecast.
Historical/Present & Future Data Collaboration.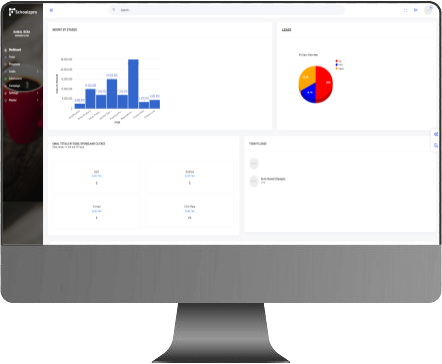 Benefits
The solution automates the sales working giving the better and timely visibility along with the market reach up to the last mile. It removes the pen and paperwork and allows companies to analyze and forecast the sales operation in a timely and productive manner.
Easy Data Entry, Data Selection. No Pen-Paper entry required.
Sales team can efficiently access and manage the information relating to their customer and the product.
Real time retrieval and updating of information provides correct information at the right time as and when required.
Payment collection information on real time basis
Schemes and Discounts automatically passed to the customer