Schoolzpro: Online Exam
Software
Online exam software to make the most of edtech and reduce the stress of managing pen-paper exams.
When everything is going online, why shouldn't exams? Our country has been lagging behind in terms of digital education but not anymore! Starting now, you can contribute to digital India by taking examinations online. How? Using the Free Online Exam Software that we created – Schoolzpro.
When we thought about Schoolzpro, we wanted it to be software that can not only help schools conduct exams easily but also help them manage the complete pre and post-process of online examinations. The Schoolzpro online examination software is loaded with multiple features and is an advanced online examination system that can help your school get ahead in the competition.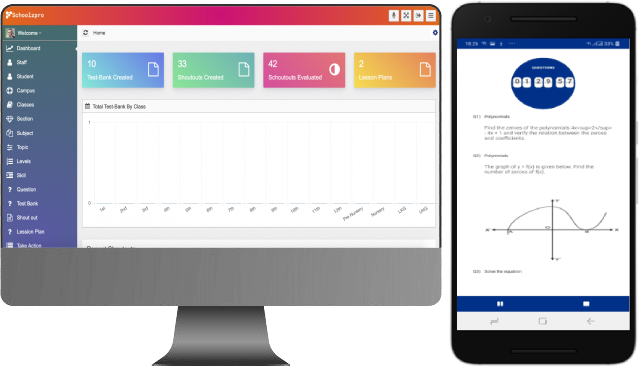 The first and most significant feature of Schoolzpro is that it allows schools to conduct both subjective and objective exams within the same application. Other Online examination software have only objective exams as an option, but since we wanted to revolutionize online examinations, we added the subjective examination feature as well. Conducting both types of exams is very easy, the teacher simply uploads or enters the questions, students join the exam, complete it and submit it.
The second feature is that the Schoolzpro online examination allows real-time paper checking. Unlike traditional classroom exams, the teacher doesn't have to wait for the complete class to submit the answer sheets. With the Schoolzpro online examination software, teachers can check answer sheets as soon as the students start submitting them. Within the paper checking feature, teachers also get an option to grade and leave feedback for students using the in-app pen.
The third salient feature of Schoolzpro is Lesson Plan Sharing. The Schoolzpro online examination application helps teachers in sharing lesson plans with the students in multiple formats like images, pdfs, videos and more. We added this feature because we know how important it is for both the teacher and the student to be on the same page. Using this feature you can make sure the student studies the right thing.
The fourth feature of the Schoolzpro online examination software is that it is high on security. No one can even sign up to the application without a teacher approving it. We know some students can be mischievous and might want to sign up using fake accounts, and thus we've added this extra layer of security. Besides this, all your data will be stored on secure servers to ensure that the data is safe all the time.
Web development services have a huge range of sub-services and we will help you with all of them.

Web Design
The best web development company in Gurgaon, should have a mix of wit, creativity, and experience in all sorts of niches. We build designs based on your needs and we make sure that web design created by us looks super impressive. An eCommerce web platform would need a more dynamic design while an informative website will have a more static and upfront design this understanding helps us create visual masterpieces.
Website Maintenance
We understand you have a product that's doing good but you need someone to help it keep doing that or maybe help it do better. For that, we can help you with website maintenance as well. We make sure the projects handed over to us are up and running always and any problem is sorted out with topmost priority.

Web Development
The core service, web development itself includes all sorts of web development services like Javascript development, WordPress development, custom website development, web application development, and more. We work on all these and with a wide range of technology at our disposal we can build you a platform of your choice in a short time interval.
Features
We've got many other features to tell you, why don't you just visit Schoolzpro's individual website to read more about it.
Secure Access
---
Approval based signups.
PIN for Exams.
Lesson Plans
---
Share Lesson Plans.
Formats like pdfs, jpegs, videos, etc.
Question Bank
---
Multiple Question Banks.
Add/modify/delete questions.
Online Exams
---
Subjective Exams.
Objective Exams.
Exam Timer
---
TIme based exams.
Pause/start timer anytime.
Paper-Checking
---
Real-Time Paper Checking.
Auto-checking for objective exams.
Grading
---
Grade, leave feedback easily.
Track individual performance.
Data Storage
---
Unlimited Cloud Storage.
Remote data access.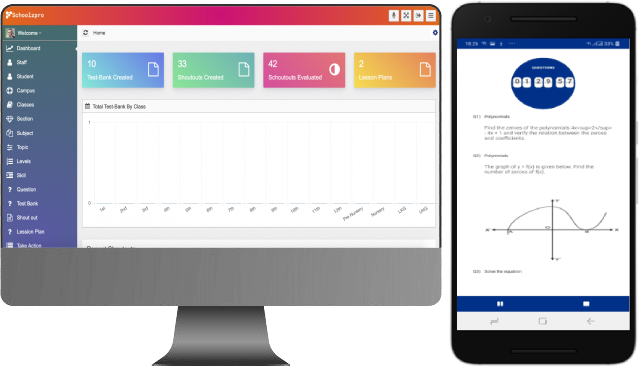 Benefits
The solution automates the sales working giving the better and timely visibility along with the market reach up to the last mile. It removes the pen and paperwork and allows companies to analyze and forecast the sales operation in a timely and productive manner.
Easy Data Entry, Data Selection. No Pen-Paper entry required.
Sales team can efficiently access and manage the information relating to their customer and the product.
Real time retrieval and updating of information provides correct information at the right time as and when required.
Payment collection information on real time basis
Schemes and Discounts automatically passed to the customer