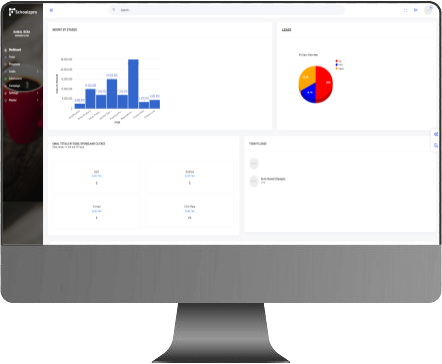 Before we get into the actual article, if you want a short, no-nonsense answer, then it's a resounding YES. Yes, education CRM can single-handedly change how the whole school industry works. If you want to know how, read on.
As time passes, more and more schools are entering the industry. However, it's getting difficult for students to choose the right school for their career. Simultaneously, schools have a dilemma on how they are going to reach out to every prospective student amidst this cacophony everywhere? And not just this, the Indian education system has several aspects where it lacks, in the way it manages and operates. The vast numbers of features and services which an education CRM provides are incredible. It helps make the entire experience of how a school has to operate and communicate into something much better, more efficient, and surely smoother. 
In today's article, we're going to look at some of the major services an education CRM provides and how it can help in revolutionizing the way in which the school industry works. But before we do that, let's look into what CRM software means.
What is CRM software?
For those unaware, CRM software stands for Customer Relationship Management software. What it primarily does is help to streamline the communication between the school and the students and their parents making it more direct, more effective, and more transparent. It helps in increasing the popularity of the institution and gives them a good reputation in the market with features that ensure maximum student satisfaction.
Added Security
It's natural that parents are usually concerned about their wards at all times. Dangers never request appointments and can befall at any place and any time. With CRM software, you'll be able to provide the parents with additional security measures that will keep their worries at bay. You get to track the school vehicles, which pick up the students and takes them to school, at all times. This would help in keeping tabs on students when they're neither in their home nor in the school.
Apart from that, through biometric verification, you can keep tabs on which student has arrived and which one hasn't. Constant communication regarding their attendance automatically takes place regularly which keeps the parents updated on the whereabouts of their children. This also makes the attendance process simpler, less time consuming, and more effective.
Centralized Query Resolution
This is a world governed by social media. And therefore it's plain idiocy if your school isn't on most of these websites. Having an account on these platforms ensures that every student gets to interact with you at their convenience. But it comes with its downsides as well. Having multiple social media accounts makes it very difficult to handle all of them effectively and quickly. Here also, the CRM software comes to your help. It provides features through which all the messages can be viewed in one place and immediately resolved. 
More Enrollments
It converts the entire admission process from being a long, tedious process to a quicker, more efficient and successful one. It employes multiple customizable marketing strategies which ensure that your school is more popular in the market and (by which) more students get to know about your school and apply subsequently. These marketing strategies can be removed or replaced as per their utility which you can observe as each one of them is tracked. It also tracks every student visiting your school website and, based on the position of the student in the marketing cycle, sends them customized messages, therefore increasing the chances of the student applying for your school.
Schedule and Salary Management
The larger the school, the more the employees, and consequently, the more work required concerning the daily schedule and monthly payments. But worry not, because the CRM software is here! It helps you in creating daily schedules after taking in your preferences and requirements automatically which helps in a more efficient system with lesser errors. Also, it creates a database for every employee and keeping records of their work profile. This helps you in processing the salary rollouts per month and saves your time as well.
Schoolzpro Education CRM: Why this is something you must buy!
We've seen how education CRM software can play a part in completely changing the way a school operates. The whole process becomes something better and methodical, helping schools immensely. Moreover, Schoolzpro education CRM is a CRM software that has loads of features that can help one in managing and operating a school. With 24*7 customer support and the several benefits of a CRM software (a simpler and more secure attendance system, quick resolutions to queries, schedule management, student tracking, customized communications, secure portals for payment, etc), it'll help anyone who's in charge of a school. A small investment with huge dividends, this is a must-try! Read more about it here.