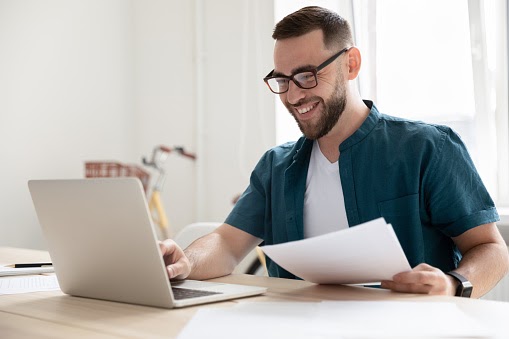 E-learning is one of the most rapidly expanding on-demand markets. According to a recent market research survey, the online tutoring segment is expected to grow at a CAGR of 12% between 2019 and 2023.
Having a dedicated online tutor app for your educational startup allows students to communicate in real-time with teachers and professors and discuss questions. It also enables students to gain instant access to a wide range of study materials from the comfort of their own homes, rather than having to visit a library. It allows students to save time and have important information at their fingertips.
In today's article, we're going to look at some of the most important features for educational startups that should be present in online tutor app development. Without any further delay, let's dive right in.
Easy Registration
This is the first step for any user to take before joining your platform. Long information forms like the ones we used to fill out are now a thing of the past. Every user may not intend to use your app for an extended period of time. You want as many people as possible to download and use the application. And so you must provide a simple and quick registration process.
Providing a Facebook or Google login option to your users is the quickest way to collect user information and allow them to access in-app content. If you want to keep it formal, simply request an email, name, age, and phone number. You can also maintain two-step verification by sending an OTP to their mobile phone numbers.
Consumers today are usually uninterested in being asked to create complex usernames and passwords.
Personalized Homepage
An online tutor app should have a personalised dashboard with personalised recommendations and a history of courses a user has explored. Your algorithm should learn about a user's preferences and make appropriate recommendations.
The dashboard should provide recommendations for related courses based on browsing and purchasing history. It's similar to what a user might be offered in an eCommerce platform based on their frequently purchased items. In addition, the dashboard should include a progress metre that displays learning statistics for each individual.
Interactive Assignments
Quizzes are a fun way to conclude and test students' retention abilities. If there is no two-way interaction with customers, an online tuition platform is no better than an ebook. At the same time, the tests should not be monotonous. 
This is where gamification can help. Take it a step further and include a test series for each chapter. For example, students frequently return to a tutorial to repeat it. Students can be encouraged to take on new questions and see if they have improved if your app includes a revision tracker.
Offline Lessons
If a user has paid for a specific course, they should be able to download the entire course via the app. There are still many areas where the internet has yet to penetrate. In such cases, a user can download the entire course at once and watch it whenever it is convenient for them.
The user would also need to keep a record of the lessons they've learned for future reference. Session transcripts are always useful whether you are in a live online class or an offline one. This should be supplemented by a Notes section that students can download.
Advanced Options
Once a user has completed their registration, they will be able to sign in and begin searching for the courses they are looking for. When your users search for courses using keywords, it is your responsibility to provide them with relevant learning material. You must equip your online tutor app with long-tail/short-tail keywords that a typical user will be familiar with. Then, as one types a query in the search field, auto-suggest these to make it easier for them to click and be directed to the appropriate landing page.
You should create an intelligent algorithm that can guess what a user is looking for. Basic functionalities that users expect are often overlooked by educational app developers. The scope of user searches is constrained. Not every user will be familiar with the spelling of each course they are attempting to find. As a result, an advanced search feature that can learn what a user is trying to search for will suffice.
Saved Progress
The Save Shopping Cart option, which allows you to save the stage of an order and return later to complete the payment, is popular among users. This feature is effectively used by on-demand entertainment services such as Netflix and Amazon Prime. The same principle has been applied to the advancement of education. No user wants to be redirected to their currently running courses every time they use your app. 
The user's current courses should be shown at the top of their dashboard. Whatever the circumstances, learners must be able to resume their online, recorded lecture from where they left off. It sounds simple, but it necessitates high-level technological acumen. In addition, recorded sessions should be set to auto-play when a video ends.
Compatibility Across Platforms
You can never control which device a user will experiment with or be forced to use to run your online tutor app, so it must be available on all mainstream devices and operating systems. Another emerging trend that we see as an on-demand app development company is Progressive Web Apps.
As you continue to add features to the design, the cost of tutor app development may rise. As a result, the concept of PWAs is gaining traction among vendors with budgetary restrictions.
The Benchmark: Schoolzpro
The Schoolzpro School ERP software integrates all major aspects of school management such as attendance, admissions, fee payments, transportation tracking, examinations, and more, allowing for super easy and digital management of the entire school.
It offers solutions that can assist educational institutions in adapting to new teaching methods and making the most of technology. The platform has a plethora of features that make managing each and every function of your school super simple and productive. Want to read more about it? Check out the website here. 
Want to get an app developed? Connect with us here.