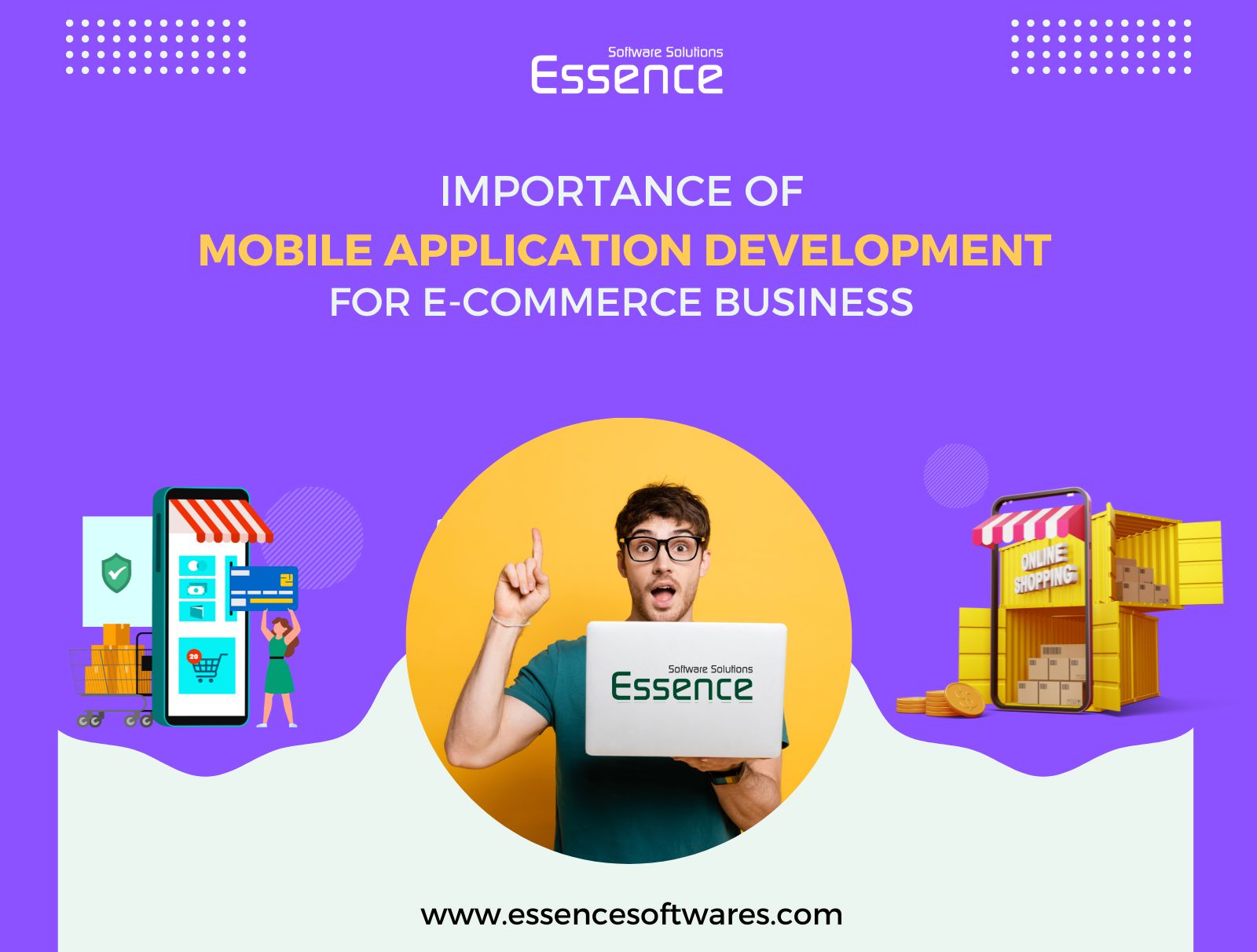 6 Reasons Why You Need Mobile Application for E-Commerce in 2022
In this Digital ERA, everything is evolving in the digital transformation. The e-commerce or shopping industry also has an extensive impact on digital transformation. People are shopping online, today, more than you think, and even more than before. Your consumer or customer is available all the time anywhere, anytime and you can have access to them, which can lead to conversion for you.
The power of the internet has become extraordinary today, you can access your consumer from any device but the type of device you're targeting can play a significant role in your success. It's a well-known fact that the usage of mobiles has increased at massive heights. According to reports, 96% of adults in the USA use mobile phones, and 81% of people have smartphones. So, If you are running a digital business, you need to be aware of the fact that having a website or social media pages is not enough to get success. 
According to a study by Pew research center, 97% of internet user uses the internet to purchase anything across the world. You can't make it with a website alone while doing e-commerce business you need to transform your business with the trend. And what is trending today in the digital world is a "Mobile Application".
If you want your business to be appropriate and trending then you should go with an e-commerce mobile app.
We've listed 6 reasons why you need mobile application for your e-commerce business in 2022
1. Enhanced user experience:
When it comes to a mobile application the user experience definitely going to play an important role. Upgrading the user experience in your e-commerce app can result in more sales. The way you present your mobile users is very crucial, as the user expects very easy and relevant navigation today to purchase anything. So, you need to focus on enhancing the user experience in the app. 
2. Increase brand recognition in the market:
One of the crucial reasons to choose e-commerce app development is to increase brand awareness or visibility. Using the mobile application, brands or businesses finds an ideal way to engage with their customers as most of them spend most of their time on mobile. So, e-commerce mobile apps increase brand recognition value.
3. Enhances customer's retention rates:
Customer retention also plays a huge role in your business's success. With an e-commerce mobile platform you can increase your customer retention here's how:
You can give some exclusive offers only in your mobile app which can lead to more customer retention.
Reward or loyalty program:
It is a known fact if you explore the market's big brands at least once everyone runs a loyalty program. Because loyalty programs and reward systems can increase your customer's visits again & again on your mobile application. A recent report says 38% of the customers visit back in eCommerce apps 11 times more after downloading the app. 
4. Mobile Commerce is Trending:
In recent years the mobile commerce industry remains in tech headlines. Everyone is shifting their businesses to mobile devices. And it is much more than expected by the founders and entrepreneurs. In India, many mobile commerce startups are now unicorn and established brands, the most recent examples from them are Meesho, BOAT, Mamaearth, and many more in the list. In fact, 67% of all eCommerce sales come from mobile devices across the world this year. And after 2 years, mobile commerce will control 73% of all sales across the world.
5. Engagement with App's features:
In this digital era of mobile commerce, your e-commerce website can be your biggest limitation If you don't have your mobile app. Today, smartphones are not only a tool for communication. They can also use for providing access to services and applications which could be used by businesses that have their app on their devices. There are many tools and services available in the market that connects you with your consumers like geotagging, which connects your user to their social media like Instagram and Facebook.
Some of the features are quite interesting that can be used to engage more with the customers. One of them will be push notifications.
A study says, 60% of users top the push notification compared to your promotional emails.
6. Boost Average Order Value (AOV):
As we discussed earlier that a mobile app enhances the user experience and increases conversion rates but you need to be more focused on the economical benefits also for building an e-commerce business. The mobile app will definitely boost your average order value.
An increase in AOV (average order value) can make a huge difference in your business, which can even improve your sales and may decrease your expenses such as shipping costs.
Remember: Your eCommerce business or store definitely needs a Mobile App.
We've clearly mentioned some of the best reasons why you need a mobile app and it must need to be a priority for all e-commerce businesses. Here's a recap of some important factors.
We all know building an eCommerce business is not a cup of the team for everyone, but still, you should go with every opportunity that can help in fulfilling the business goals.
You need to take the right decision to build an e-commerce mobile app for your eCommerce business success you may hire a
top mobile development company
like Essence Software Solutions to get your job done easily and cost-effective.
In essence, we have highly experienced mobile app developers to get the job done for you. You can reach our LinkedIn page.