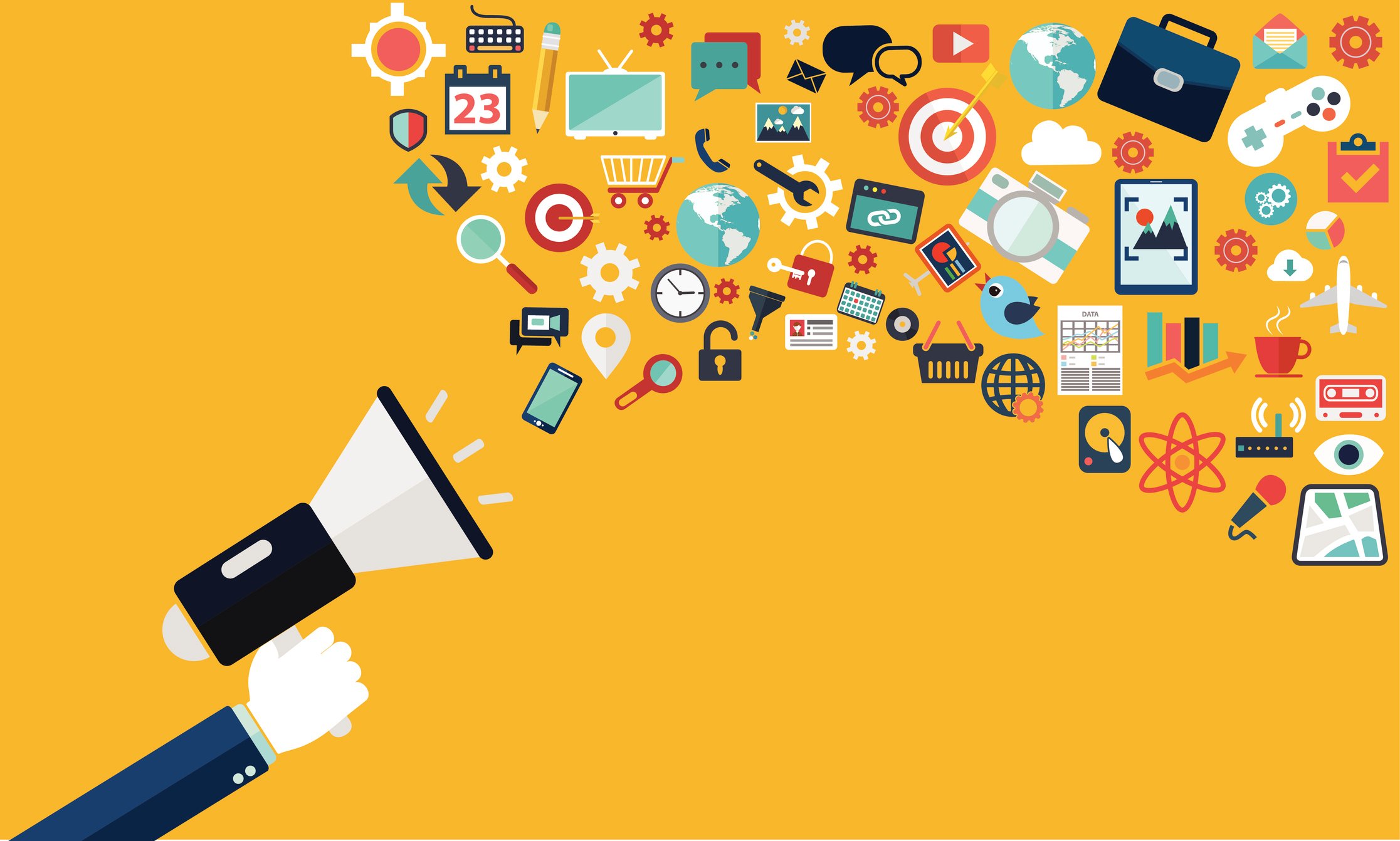 A Digital Marketing Campaign is referred to the process of describing the client's business using website presence, social media, search engine optimization, and online ads (such as Google AdWords). But digital marketing also comprises wireless text messaging, mobile apps, podcasts, email, social media advertising, electronic billboards, digital television, radio channels, and all other platforms which can be accessed and reached digitally. 
However, marketing and advertising have come a long way since their inception. During its inception, there was a time when marketing campaigns were running ads only on television and print media. As the world is moving towards the digital marketplace, businesses expand their reach and connect with audiences through digital marketing campaigns. Digital Marketing can also be referred to as promoting or creating brand awareness using digital platforms. The whole concept of digital marketing can be explained as:
CREATING CONTENT — PUBLISHING CONTENT — AMPLIFYING CONTENT
A well-defined digital marketing campaign aims at getting more visitors, leading and converting them into customers. The top 5 undeniable reasons why you should start a digital marketing campaign right now are: 



Consumers are going Digital
The primary reason to start a digital marketing campaign right now
is that the target audience is going digital. People tend to use the Internet to search for information. The Internet is so prevalent that consumers have access to all kinds of information anytime, anywhere. 
When you are involved in digital marketing campaigns, you can control what consumers see and can even influence and convince them to visit your website or even buy your product. More than 50% of the consumers agree to not survive without their smartphones. This shows that consumers these days are looking for more digital content and want their purchases to be unique. 
A study shows that more than 80% of the consumers use websites and check reviews for search. More than 20% of consumers use the different social media platforms and blogs to find new solutions, products, and brands. These stats make it clear how digital marketing campaigns can benefit your businesses. If you are not involved with the right digital marketing campaigns, you may lose many potential customers. It becomes essential that every companies' work is visible through these digital searches, and they can engage well with customers.



Digital Marketing Campaigns are easy to Track and Monitor
The analytics offered with digital marketing campaigns are global and vital to your strategy. The digital marketing campaign is unique because it is one of the more highly trackable types of marketing. This allows you to directly see how your digital marketing efforts affect your business and the goals. 
Since it engages the use of online channels and methods, an organization or a company can analyze marketing campaigns and understand what is working for them and what is working against them. Digital Marketing Campaigns provides you with the privilege to track your success anytime, anywhere with the help of digital marketing metrics. With this system of metrics, you get an accurate measure of ROI. 
It also defines the areas of improvement and works to make things better in the future. With this analytics tool of marketing campaigns, marketers can check for different ad content and manage how audiences react to each campaign.  You can access the number of visitors on your website, the number of page views, average time a user spends on your website, bounce rates, conversions and analyze your growth over time. You can optimize your marketing strategy and get the best results by analyzing and considering all these aspects.



Your brands become more interactive
Digital Marketing helps in creating brand awareness. Research and statistics show that people are always looking for brands they can trust, companies that know them well, personalized and relevant content, and special offers tailored to meet their needs and preferences. 
People tend to work with and refer others to the brands they know and trust. Digital marketing is evolving daily. You can give your customers a more personalized experience with certain and the right digital marketing campaigns such as social media marketing, blogging, improving search results, text messaging, online advertisements, and affiliate marketing. Businesses tend to grab the attention of their clients with short online videos as well. Images and infographics also help to keep the audiences informed. 
It entertains them and keeps them engaged as ideal permanent customers. Cisco predicted that by 2019, more than 75% of the Internet's traffic would comprise video content. Remarketing on social media is also an important part of digital marketing campaigns. It shows the consumers what they have left behind and gives them a constant reminder of your brand. With personalized ad content, you and your brand become more interactive with your consumers and can stay at the top of their mind-influencing them for future purchasing.



Increases the audience reach
Digital Marketing Campaigns are instrumental in reaching your target audience. Digital marketing allows you to provide people with what they are searching for. A well-researched marketing campaign plan will construct your content effectively to meet your audience's needs. Thus, increasing the target audience reach. This will help you be the expert in your field, be in demand, and most importantly, gain the audience's trust. 
Digital Marketing also helps you to strategically focus on reaching and increasing the visibility of your brand. Traditional marketing only reaches a particular section of the audience. However, if you are looking to reach all audiences, then digital marketing is the key. Also, digital marketing provides you with new ways to reach your audience. It gives you great exposure to build effective brand recognition. 
This can be achieved through blog content, social media, and search engines, especially to reach out to those you have missed and need to make the involvement. The process of planning a digital marketing campaign is not that complicated. However, it would be best to define your goals and tactics according to the audience's needs and expectations.



Real-time analytics gives Direction and Goals
Digital Marketing Campaigns offers its clients the facility to review their website or any product they purchased.  This allows the audience to see what the media, friends, and relatives say about you and your company. The clients are more likely to believe the reviews than you. 
About 90% of people trust online reviews written by other users more than trust recommendations from known personal contacts. Digital Marketing Campaigns monitor what is being viewed, how often and for how long, what content works and doesn't work, allowing for the required changes. It provides real-life, real-time analytics to give your business the required directions and goals. 
This process of evaluating the analytics depends on certain steps, including learning to know what to do, planning to build a plan of action, following the plan, and growing your business according to client demands and needs. Building the correct and the proper strategy to run a digital marketing campaign will help you determine the direction and goals. Companies without a proper strategy defined will not have a sense of what they want to do and what will they do to handle some of the essential elements. 
It becomes hard to know exactly what you want to campaign for online without specific goals. A well-defined digital marketing campaign will help the companies tackle crucial questions. These questions include knowing how to sell, whom to sell, define the target audience, develop an effective digital program, and run a successful, efficient online campaign.
Conclusion
Right now, in this pandemic situation, there has been a sudden increase in people being indoors, leading to a change in lifestyle where consumers have shifted to spending more time online than before. Businesses are getting affected because of the virus, and companies are announcing cutbacks one after another. Marketing departments around the globe are experiencing the effects. Most marketers are at a crossroads, confused, wondering which path to choose in such an uncertain future. 
Online activity and shopping could be the only option available when activity in normal circumstances is low. Online activity could also be higher than ever since there is a constant stream of breaking news. With many affected companies decreasing their digital marketing budgets, we see a drop of about 50% in CPM and CPC prices. This is an ideal opportunity for the other marketers to reach out to new customers at a lower cost than previously through digital marketing campaigns. Marketers now have the chance to attract more clients and customers by advertising their products on popular websites at a lower cost than the pre-covid period. 
More digital marketing campaigns need to be considered by all industries. Webinars, digital entertainment, and online videos are examples of solutions where physical marketing is absent to flourish businesses. If you need help with your digital marketing campaign, you can connect with us straight away.