In this age of technology, your school must keep up with the times. Cash payments, attendance registers, physical documentation are becoming a thing of the past, and there's a reason for that. With technology comes efficiency and better management, and that is the reason behind the increasing popularity of ERP. These tools ensure that your school is modern and you get more productivity and efficiency. From managing time-tables to attendance to libraries to admissions, this software handles everything easily and swiftly. But with the growing number of ERPs everywhere, it can easily get daunting for you to choose the right software. Fear not, for in today's article we're going to help you choose the best school ERP software in India, that suits your needs and that of your school perfectly. Without any further delay, let's dive right into it.
Best School ERP Software In India
We've listed here the 5 best school ERP software in India for you. You can read their features/benefits and make your choice as per your preferences and requirements.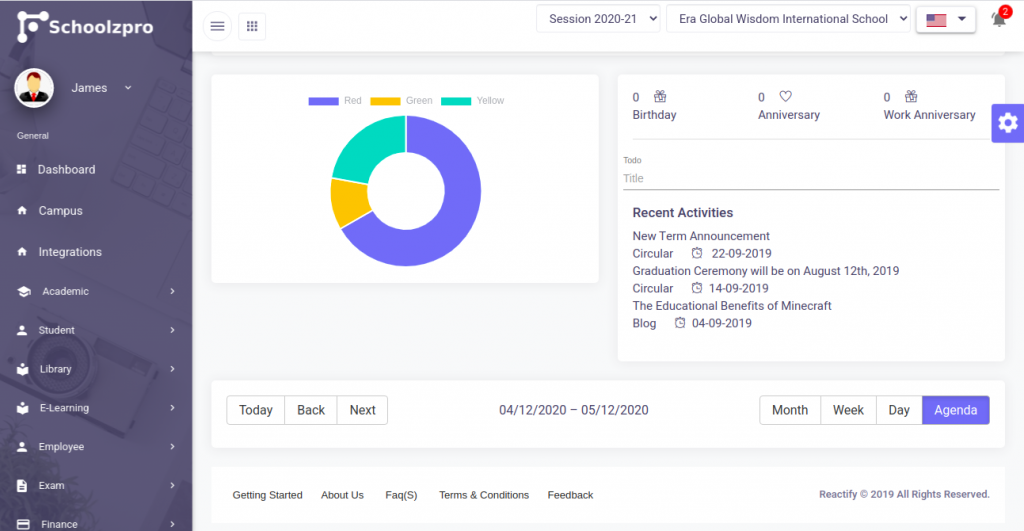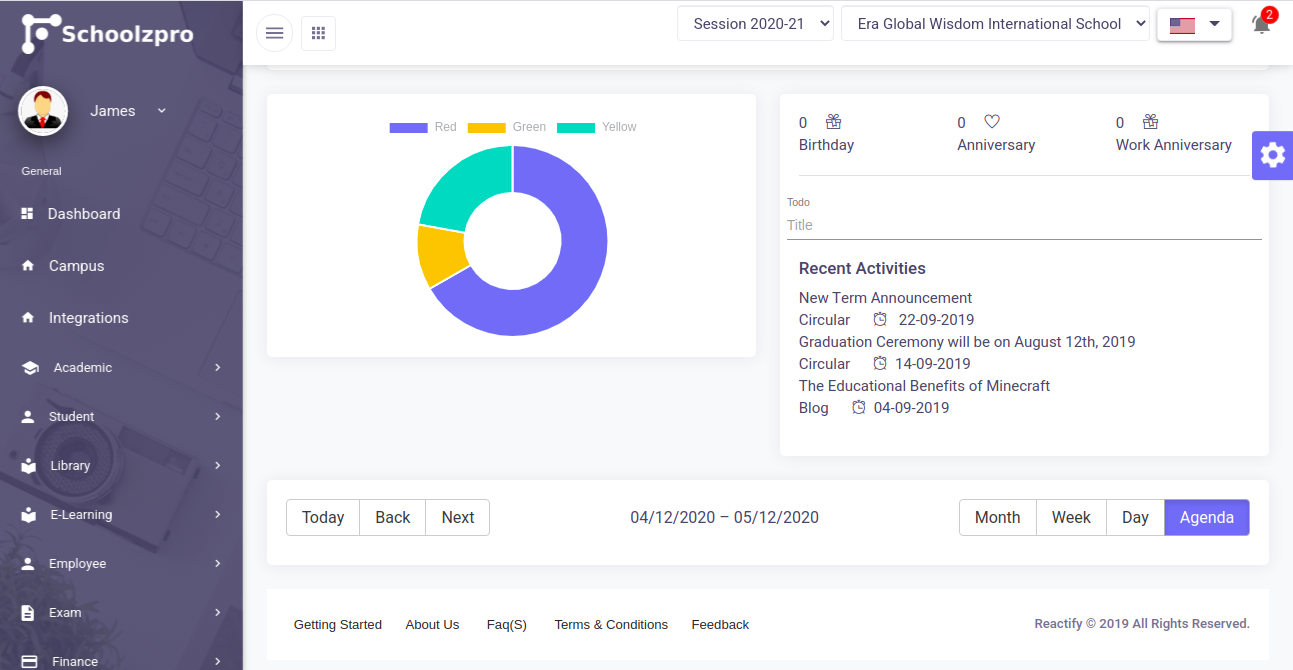 This software was built to elevate the overall productivity of a school by helping schools manage everything easily and keep updates on every single activity in the school. A software as advanced as this can easily take an institution to entirely new heights and rapidly improve its functioning. From admissions, exam updates, transportation, attendance reports, payments, and more, it handles everything to make your job simpler and better. 
With multiple integrations, this is not just another student management system, it's a system that manages your complete school proceedings. Its mobile application includes even more features that guarantee more growth and reputation of your school with time.
Benefits:
The performance of every single student can  by integrating with their online examination system. Using numerous tools, the statistics are viewable in a way that is easy to understand which is thus more presentable and attractive. You can also evaluate the performance of a whole class and the entire school collectively as well using these tools. 

Everything stored in the software automatically gets saved in their cloud server, so that you've no worries at all regarding data loss! This also makes sure that it's safe from hackers and other cyber attacks while being accessible from anywhere.

A little delay in the arrival or departure of buses can be a source of anxiety for parents and school administration alike. Not anymore. With the bus tracking module, with just a few clicks, you can have the live location of the bus and so can the parents. Not just that, you can also view other details like the time of travel, route and more.
Admission & Fees
The entire admission process is rendered easier, thanks to Schoolzpro.

Once you enter the details of a new student, they're allocated to all the different modules according to the specified information, for eg, they're automatically allocated a bus depending on their location. This also makes sure that you can access all the students' data in an accessible manner whatever may be the purpose. 

In this modern age, it's foolhardy to expect that parents should pay via cash or checks. With Schoolzpro's payment gateway integration, you just have to share the fee link with parents where they get multiple, secure payment modes to easily submit their ward's fee. Moreover, the tools will automatically update the status. You can also use this tool for managing your employees' salaries.

You won't need to purchase separate software for different campuses. With Schoolzpro, you can manage all your campuses in one place efficiently. 

With so many social media handles and their rising presence, you can't miss out on gaining new students via these channels. But it has its downsides too, since managing that many channels successfully can be a daunting task in itself. But worry not, for, with Schoolzpro's inquiry management tools, you can view and respond to all the queries in one place easily.
There are several other features under this software other than the ones mentioned above: student-teacher logins, attendance tracking, online examinations, school news management, regular alerts through emails and messages, and more. Schoolzpro is definitely the complete and best school ERP software in India.
Entab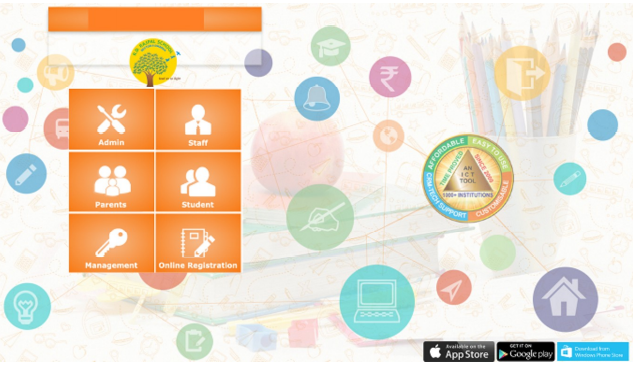 Seeking to empower schools by automation through innovation, Entab has evolved over 20 years and the software helps in efficiently managing the administrative work while also forming a strong teacher-parent relationship for the better future of the students. It brings together all the departments and processes in one place, drastically reducing your work and making it easier and better. 
The intelligent tools help in increasing admissions and multiplying the overall productivity of your staff. Combined with their apps, they ensure holistic growth not just for the school, but also for its students. 
Benefits:
The exam management module provides every student (and their parents) with a unique analysis that shows them the areas they're lacking in so that they can improve with time. Plus, you won't need to design and print your report cards from any external sources ensuring secure data management.

With the school fee management module, you can track your school revenue of different durations. Not just that, it also collects late fees as well as keeps record of those who haven't paid their fees.

With its cloud-based technology, it allows remote usage anywhere on the globe securely. So wherever you may be, you can access all the tools with just a few clicks.

The role-based access functionality makes sure that any secure information can be easily restricted. This is done by showing specific parts of the software to every person depending on their role in the school.

The cloud-based attendance management module enables digital attendance tracking and records. The parents are regularly notified about their ward's whereabouts which also means that students are less likely to skip school.

The school inventory management module takes into account every item so that nothing is lost or misplaced. This also results in an organized inventory system where all items are stocked and available at all times.

The school financial accounting module makes the entire financial management of the school transparent and accurate so that there's no room for any error.
There are multiple other modules such as online registration, student information, school library management, school staff information management, school staff payroll management, school bus transport and GPS, and much more. 
Chalkbox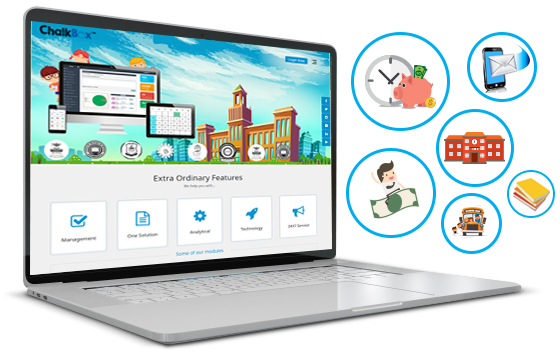 Chalkbox, a 2015 company, brings together all the modules that a school requires into one combined software and mobile application.  With a user-friendly interface and 24*7 professional support by experts, it tries its best to provide you with a wholesome service. With its marketing abilities and client relations, Chalkbox helps your school in carving out a name for itself in the market. Using their tools helps your school financially as you can cut down majorly on administrative tasks. Plus, it increases the productivity of the institution via its easy-to-use, efficient tools. With its data encryption features, you're always safe and your school data is always secure.
This software includes several apps like:
Its security app tracks everyone going in and out of the school which means your campus is always secure and you can monitor visitors in real-time.

The principal app eases the job of the school principal as they can get all reports simply on their smartphone. Not just that, they can direct all the staff and teachers accordingly and send files using broadcast chat.

The school management, (the director) of the institution can check the entire school data easily and make decisions remotely. From GPS tracking to visitor reports to admission statuses, everything can easily be checked.

The teacher app allows the teachers to mark attendance, share feedback, allow leaves, enter marks, share homework, and more.

With the parent app, parents can get notified of any future events, attendance, marks, and behavioral reports of their ward. Not just that, they can also receive pictures, videos, homework, mark sheets, apply for leave, give any feedback, pay the fee online, get live bus tracking, and put forward their concerns.

The admin app provides all the functions through which you can control the school and its daily routine.
Apart from these, there's also a front office app, a librarian app, a transporter app, and a bus attendant app. All these apps have their unique functionality and purpose. This app definitely makes it place on the list of the best school erp software in India.
Myskoolapp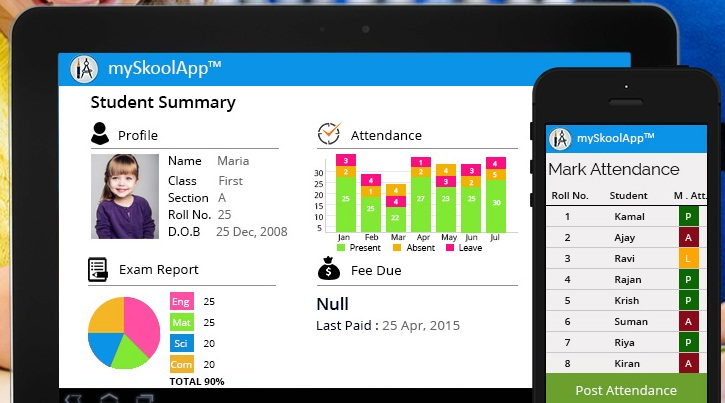 Myskoolapp aims to bridge the gap between parents and teachers and make the whole administrative process easier and more efficient so that your school can touch new heights. With this software, schools can share real-time updates with the parents, bringing in more transparency and trust. This also implies that parents are kept in the loop regarding their ward's performance, which means they're more involved, and thus students are also monitored. All this results in better participation on the student's part in both academics and extracurricular activities.
With myskoolapp, your school will have an entirely different, modernistic way of functioning that'll result in transparent, quick, and accurate operations. 
Benefits:
With the admission management feature, it becomes easier and more convenient to manage admissions. Moreover you can import and export student data, manage their documents and details along with the details of their guardians.

The student management feature provides a 360° view summary of the student. Using this feature, you can track each student's exam performance, attendance details, class ranking, documents, and fee details.

With the staff management feature, you can view the details of all your employees systematically and also check their attendance, various reports, and salary status.

You can set management rules for your library, and manage them according to authors, paragraphs, and languages, or any other criteria, get reports, send late book alerts to both staff and students, manage your racks, and much more with the library management feature.

Using the bus management feature, you can manage routes and timing, create stations and fee slots, track location using GPS, store records and much more.
Not just these, myskoolapp provides features like hostel management, timetable creation, store management, public relation management, timetables management, and more.
SchoolerpIndia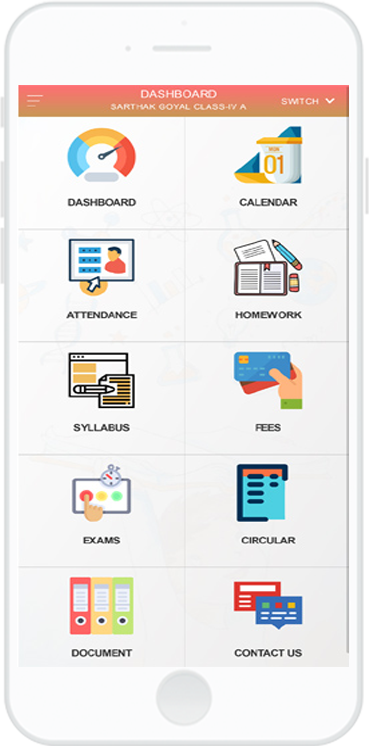 This is a web-based software along with a mobile application. SchoolerpIndia has a fast and light interface that loads swiftly, whatever may be the internet speed. It requires minimal technical knowledge and the multitudes of features ensure that your school is efficiently and productively managed.
Benefits:
It helps create timetables for employees as well as students. These time tables can be updated and accessed easily at all times. With swift timetable management, it becomes easier for both the teachers and the students to assign and plan the time.

With regular notifications, parents are up to date with future events, exams, and about their ward's performance, attendance. Using the bulk messaging feature, you can send messages to all the students altogether rather than messaging them individually.

Thanks to the online admission feature, it's easy and convenient for students to fill their forms and pay fees online. This saves not just your and the students' time and energy, but also makes the entire process more reliable.

Creating online question banks, different grading levels, creating report, conducting online examinations, you can do it all easily via the exam management feature.
Apart from the above-mentioned benefits, it also provides fee management, student management, and more. 
Conclusion
By now, we're sure you've got a fair idea of all the ERP softwares mentioned here. It's important to keep your preferences, budget and requirements in mind while choosing an ERP software. It's important that the software makes your school environment more secure, productive and advanced. Hopefully, this article helped you in making that choice easier.