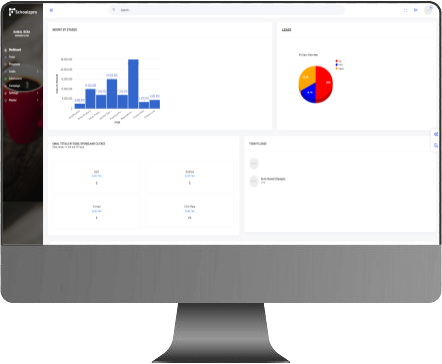 The demand for the best school admission CRM Software in India is rapidly increasing. A virtuous  CRM software offers the management of the day-to-day administrative activities of a school. It allows handling, marketing, tracking, and strategizing the resources on a single platform. There are multiple School Admission CRM Software in India that are fruitful and drive out the best results offering maximum return on investment. But which is the best? We'll leave that up to you. Without further ado let's get into the details.
What is a School Admission CRM Software?
A School Admission CRM Software helps in managing the large database of schools, filling the communication gap between the prospective students and school authorities, strategizing and tracking the marketing techniques, converting prospective students into a regular student of a particular school, managing a healthy relationship with each potential student by making the admission and payment procedure easier for the school authorities. 
A CRM system is meant to improve the business and escalate the profits by managing leads, documents, and the journey of each potential customer (students, in case of school).
Features of the best School Admission CRM Software in India: 
Multiple features of CRM Software suit best for school admissions. Once you have a clear knowledge of the features offered by a CRM software, your work will be easier and you will be able to pick one that will prove best for you. 
Let's have a look at the best features of an Admission CRM Software: 
Lead Management

We count lead management and the data of each interaction as the most vital feature of a school admission CRM. A good CRM Software avails keeping a record of each potential client, building a healthy relationship with them, and generating profit.
Document Management

Admissions are hectic if the documentations are not properly arranged. A CRM Software takes utter care of the documentation of each student to ensure hassle-free admission. It organizes the details of each student in a systematic way. This maintained documentation saves time and effort, making the process quick and handy.
Proposal Management

Maintaining the records of prospective students is not enough. It is very important to keep a proposal in hand and share it via email. This proposal should present the solution to the needs of the student. It should also contain necessary information regarding the course and most importantly the Institution. A good proposal or brochure is all it takes to convert prospective students into regular ones.
Inquiry Management

In this, the CRM Software makes sure that a prospective candidate gets all the necessary details about the Institution, admission process, course fees, number of seats, eligibility criteria, important dates, or any other query that comes from the student. It ensures that a prospective student is served at the best.
Systematic Workflow

A CRM software ensures a systematic workflow in all the aspects of management and work. A systematic workflow is a must in order to keep the data organized and keep the workflow at a pace. A systematic workflow is very essential in order to maintain the work and save time.
Tracking Prospective Students

To assure that prospective students turn out to be a regular one, it's very important to keep a track of their educational background, the course they are interested in, and keep in touch via any mode of communication. This mode of communication can either be an email or a phone call. A phone call is preferred in most cases to make sure that the students avail the benefit of one-on-one interaction and clear their queries in real-time.
Automation of work/ Scheduling the work

Automation of certain software turns the manual work into a digital one and this saves both time and effort. For ex- If you need to send an email to all the students who fill out a certain form from your website regarding queries, setting up automation for the same will keep all emails customized and will ensure that no prospective student feels neglected.
Strategic Marketing

Strategic Marketing is one of the most important and ever-increasing needs of all organizations, even yours. A CRM Software allows you to keep a record of all your brainstormed ideas and keep a record of each implemented idea and track its performance. Keeping all ideas organized and well-maintained allows you to develop an idea that needs a little more time and brainstorming.
Email Marketing

Setting up emails, drafting and storing emails, tracking click-through rates, and keeping a track of each email sent is what a good CRM Softwares offers. If you are looking to set up all of this for your school, make sure that you opt for a CRM Software that offers Email Marketing. 
Monitoring sales and overall performance

A CRM not only improves and keeps the record of business relationships but also helps in converting customers into loyal consumers. In turn, binding a long-term relationship with them. With CRM software, it becomes easy to track the journey of students.
To keep a track of lead conversion, a highly convertible lead, and leads that may convert in the future can be easily filtered via CRM Software. Not just this, you can even make small notes for each lead. For ex- Number, Address, Important Timings, and Dates to call on. 
How to Select the Best School Admission CRM in India?
By now, you must have a clear idea about the features offered by the best school admission CRM Software. One thing that we would like to suggest from our side is to know the needs of your school and look for the CRM Software that fulfills your demands.
For example- A newly set up school might be looking for lead generation and strategic marketing in the first place rather than monitoring the sales. Hence, you as a school administrator must know your requirements very clearly and then choose the CRM Software that fulfills your requirements.
Also, make sure that the CRM Software that you choose offers the following-
Cloud Storage with High-end Security.

Exceptional Customer Service

Software Integration 

Store Marketing Strategies

Systematic Workflow 

Management of Data
Now that you know about the features and your expectations from the best school admission CRM in India, We are presenting the 5 Best School Admission CRM Softwares. Have a look and decide which one will be the best fit for your school: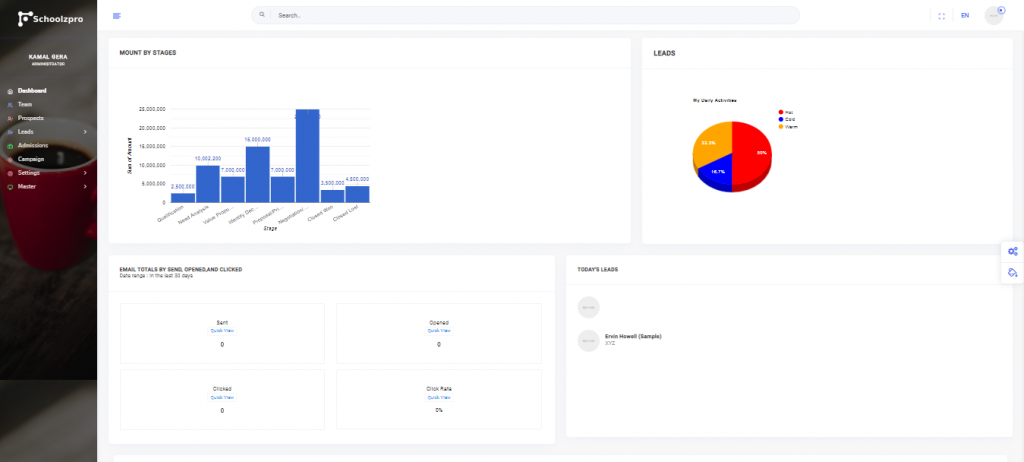 Schoolzpro is the best CRM Software that handles efficient enrollment procedures. It manages the admission process in an organized way. Not just the admission, but it also manages the day-to-day administrative work of the schools.
Choose Schoolzpro for the following-
Hassle-free enrollment-

Schoolzpro makes the enrollment process easier by keeping a record of data and giving the liberty to filter it as per needs. 

Lead management-

Escalating the business and managing the record of each lead is the core feature of this CRM Software. 

Reduced paperwork-

Reduced manual work and lesser paperwork are what every organization looks for and Schoolzpro fulfills that. 

Contact Management-

Managing all the information related to the contacts saved in the same and keeping a record of the journey of each prospective as well as regular students. 

Contact Form Automation

– Schoolzpro automates the work. By inducing the contact form on the website, you can easily deliver an email to the prospective student. 

Automate Softwares

– Automation and reduced human work is the need of today and Schoolzpro fulfills the same. 

Digitized Work

– Digital World demands digital work. No one likes to see manual work being done in any organization. 

Campaign Management-

Managing campaigns, keeping a record of brainstormed topics for further campaigns, and spreading out the word for campaigns, everything is done by Schoolzpro. 

Analytics-

Analytics can be hectic to maintain manually, but with Schoolzpro you don't need to worry. 

Email and SMS Integration-

Integrate all the work and you don't need to send Emails and SMS every time. 

Admissions Forecast-

Forecast the admission list with all the details of the students. 
FinCRM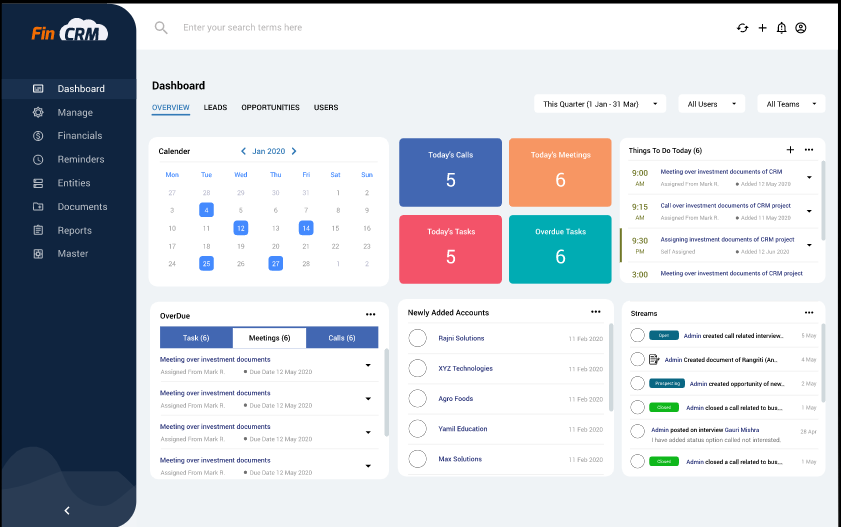 Another CRM Software that we have on our list is FinCRM. It focuses on generating profits by investing and managing leads and clients and tracking the team's tasks. FinCRM offers usage in a wide range of Industries. Moreover, FinCRM offers multiple features that can be counted as pure silver.
This CRM offers the following features- 
Lead Management-

Manage and keep a record of each lead who can be converted into a customer. 

Account and Contact Managemen

t- Saves all the contacts in a very synchronized way. 

Revenue Forecasting-

FinCRM forecasts the revenue and you can track your budget very easily. 

Enrollment Alerts-

Set up integration and the students will receive customized enrollment alerts on emails. 

Monitor Admission Pipeline-

FinCRM monitors the admission pipeline of each prospective student and makes the manual work easier. 

Daily Time Sheet-

You can maintain a daily timesheet and work on tasks at specified timings. 

Marketing Campaign Management-

Manage your marketing campaigns and witness which worked wonders for you. 

Email and SMS Reminders-

With FinCRM you can set Email and SMS Reminders and never miss a prospective student. 

Track Payment Records-

Track the payment records of each individual without any stress. 
Whsuites

With data-driven technologies, this software keeps a track of each prospective student as well as the regular ones. You can very easily fetch the data at any time.
Whsuites offers the following features- 
Student DataBase-

Manage and maintain the database of each regular student and keep a track of their journey.
Lead DataBase-

Save the lead database and visit them back anytime you wish to.
Auto Fetch Leads From Email, Portals, Websites-

Fetch the leads from the emails, websites, and by other means.
Auto Assign Leads-

Whsuites assign the leads to the administration in equal numbers automatically.
Revenue-

Keep a track of the revenue of regular students, employees, other staff members, and even prospective students.
Reminders-

Set reminders for sending SMS, emails, or ringing a phone call to prospective students.
IP Based Security-

All your resources and data are secured.
Cloud-Based Services-

Cloud-based storage services allow you to store, manage and share data very easily.
Schooladmin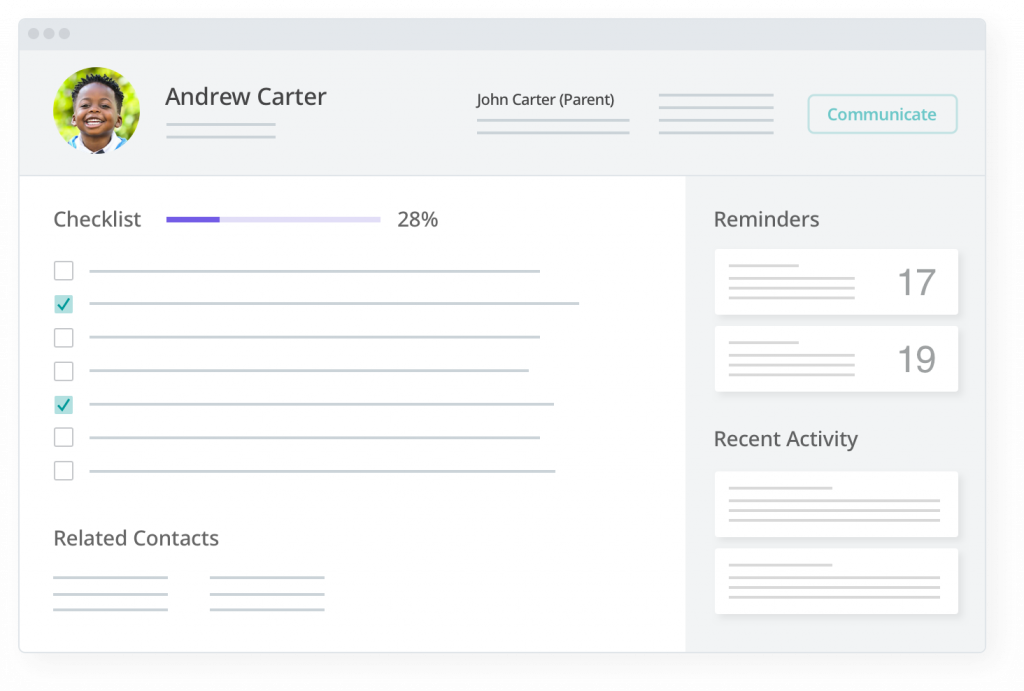 Schooladmin is also one of the best school admission CRM software in India. With this, you can present scorecards of students and online reports.
Here are a few of the features of this CRM Software-
Data-driven insights-

Schooladmin saves the data and presents the insights which in turn saves your time.
Prospect Management System

– Manage the data of each prospect and keep all information in a single place.
Customizable Event and Inquiry Forms-

Customized events invitation and Inquiry are easily sent via this software, once you integrate it.
Event Scheduling-

Schedule your events and make sure that none of your events are clashing and that you get a sufficient amount of time with each prospect.
Personalized, automated text and email communications-

Sending personalized emails and texts to each potential student manually is a hustler's job. But with this software, you can integrate a few software, and then you don't need to worry about sending customized emails every time.
Online reading, review, and scoring-

This software manages the data and presents it online on your website. Once you allow access to it, it presents scorecards and reviews as well. 
Seamless integration with Enrollment and Tuition Management tools-

Integration of Tuition Management tools with the Enrollment ones are very to be performed in this software.
Customizable and Easy Reporting-

Customized reporting system is also available in this software.
Freshworks CRM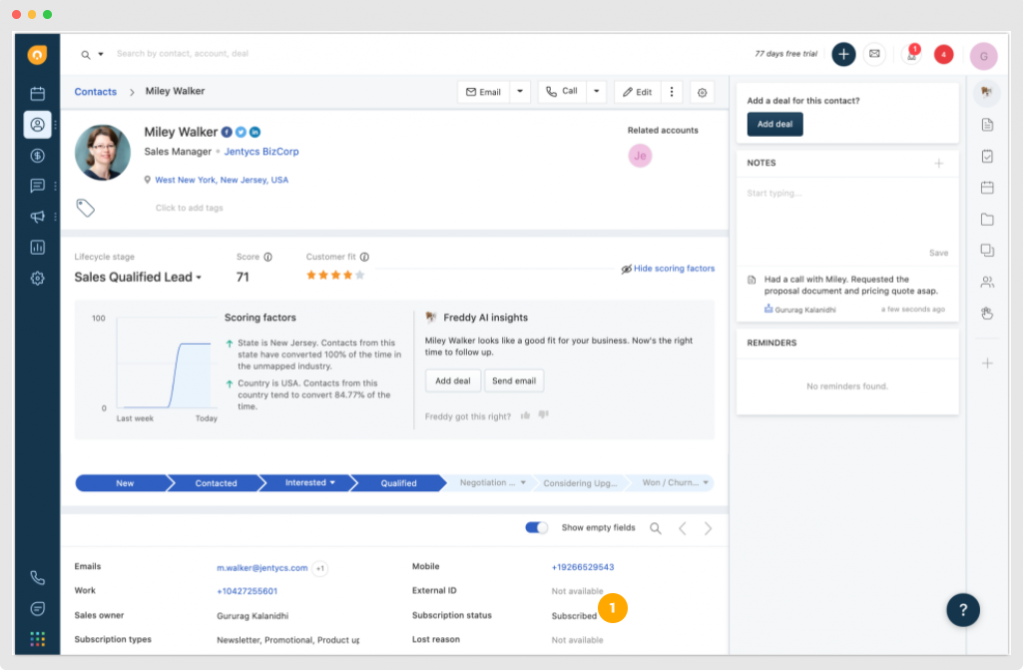 Freshworks CRM is yet another CRM Software that allows you to manage the data even on mobile. Have a look at the features-
Drive deals to boost profit-

Track each deal, store the information, and boost the profit.
Advanced Reporting-

Prepare customized reports to share with team members. Witness the sales with an in-depth analysis of your business.
Nurture prospective customers-

Nurture the relationship with each existing as well as a potential student. 
Escalate client engagement-

Escalate the client engagement by setting reminders and reaching out to them as per their preferred timings.
Mobile CRM-

This CRM Software allows you to access the leads, meetings, schedules, reminders, and much more with your smartphone.
Deal Management-

Manage all deals effortlessly, present a report of each ongoing deal, and alarms you if any lead needs your quick attention.
These are a few of the best School Admission CRM Software in India. All of them are easy to use. They keep a record of each stored data, remind you of meetings, events, and keep the connection between you and the potential student warm. Now, go ahead and choose the one that best fits your demands. Lastly, if you still need help in selecting the right CRM for you, drop us an email, we'll help!