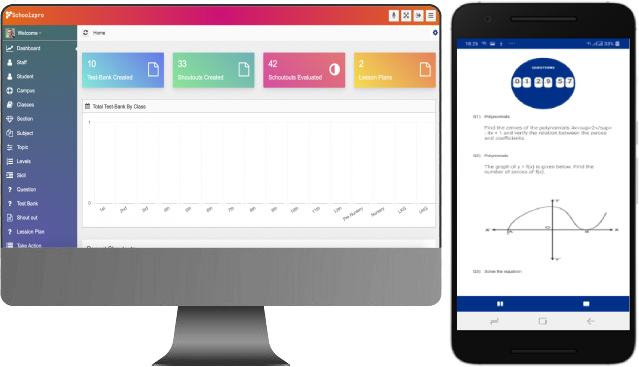 Rapid advancement in technology has nudged schools and universities all across the globe to move from the traditional pen-and-paper exams to online exams. The COVID-19 induced lockdown has only accelerated this transformation. Some major benefits of an online exam include saving time and money while at the same time it is environment-friendly as it saves paper. Online examination software allows educational institutions to evaluate students in a hassle-free way. A good online examination software simplifies the entire process and allows students to take the exam from anywhere, anytime. A good software also comes with security features that protect the integrity of exam and exam data. We have compiled a list to aid your search for the best online examination software in India. 
EKLAVVYA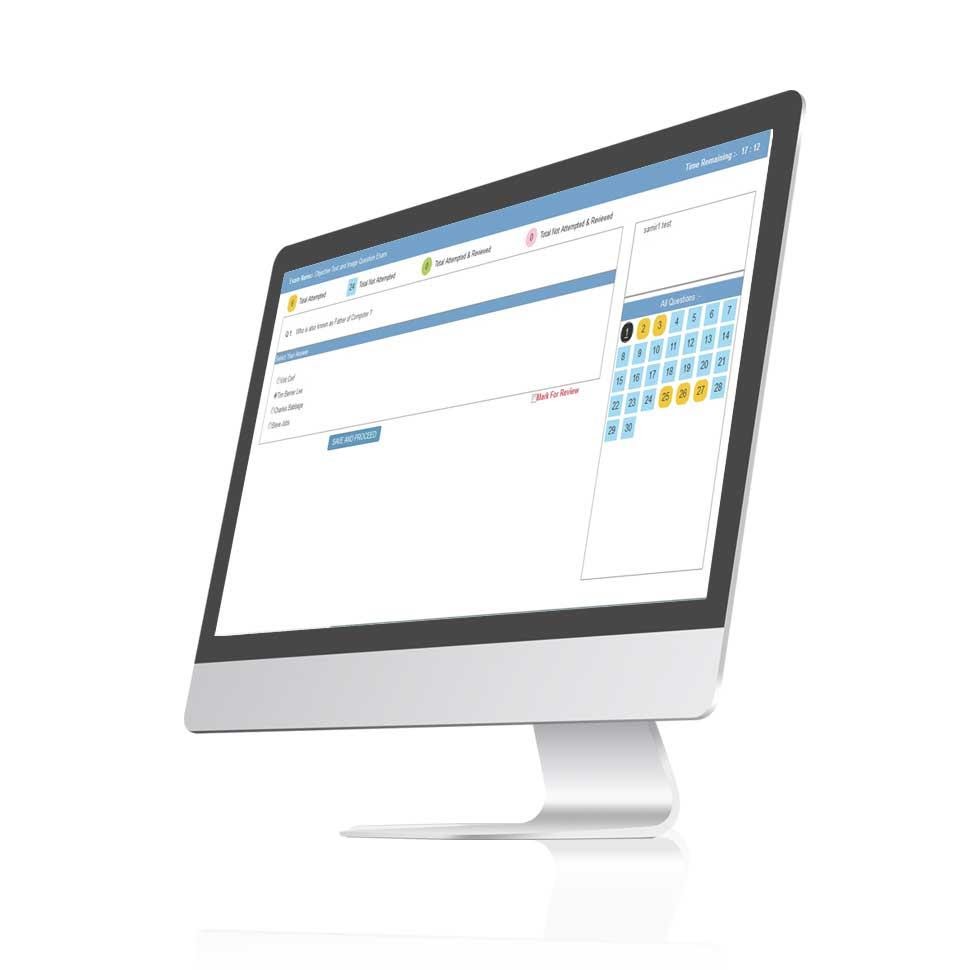 Eklavvya is a cloud-based online assessment software that serves clients across educational institutions, training institutes, and corporates. Its AI-driven platform automates the entire assessment process and provides intelligent assessment and remote proctoring. With a huge list of features, this platform definitely makes its place on the list of best online examination software in India.
The platform allows the teachers to conduct three different types of tests:
i) Aptitude Test: It allows you to assess the problem solving and reasoning ability of the individual. 
ii) Personality Test: It helps understand key personality aspects like leadership abilities, openness to experience, introvert/extrovert quotient, and so on.
iii) Domains Specific Test: It tests the functional and practical knowledge of the candidates.
The remote proctoring allows you to keep track of the overall activities of candidates. You can conduct online video streaming or capture photographs of the candidate after a certain time interval during the exam process.

The Secure Browser technology is useful to prevent users from opening any other window during the exam process.

It also provides the facility to conduct offline assessments which can be synced with the mains system later on. It is possible to conduct an assessment process using a tablet to manage the offline mode exam process.

There is the flexibility to define online assessment with various attributes like negative marking, random questions, and variable marking. The client can also design online test series which is useful for the preparation of various competitive exams.

It eliminates the language barrier by allowing you to conduct exams in multiple Indian languages. This increases the usability of the software in rural areas. Candidates can also appear for subjective exams by typing long answers and uploading images. 

You can download the results of online examinations in excel format with full analytics support. You can access topic-wise results of a batch or an individual along with overall batch performance, average marks, and so on.
SCHOOLZPRO – Best online examination software in India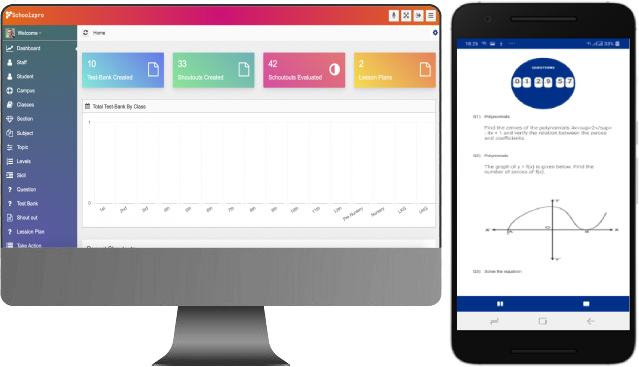 Schoolzpro is a completely online assessment and examination system. This platform is rich with features that can help schools conduct examinations remotely with ease. The software has been designed based on inputs from multiple stakeholders including teachers, students, and school administrators to ensure that it provides a complete solution to the needs of the educational institution. This advanced examination system helps schools manage the complete examination process from pre-exam to post-exam result analysis. The software is available on Android, iOS as well as on the Web. The platform's massive list of features and easy accessibility makes it the best online examination software in India.
These are some of the prominent features of Schoolzpro:
This online examination system allows you to conduct both objective and subjective exams. Most existing online examination software only allows objective exams but Schoolzpro offers you the option to conduct subjective exams through the same platform in a hassle-free way. All you have to do is upload the images of subjective questions on the platform and students can submit their answers by uploading pictures of their answer sheets.

Schoolzpro also allows teachers to share Lesson Plans with the students so that they are ready to excel in the exams. The software helps teachers share lesson plans with the students in multiple formats, including pdf, image, and video. This feature ensures that students and teachers remain on the same page throughout the entire examination process and eliminates the need for physical attendance in the classroom. 

To save time, the platform allows teachers to check answer sheets in real-time. This eliminates the need to wait for the entire class to finish the exam and teachers can start grading the papers as soon as a student submits their paper.  This also benefits students as they can get their results quickly and instantly on the application. 

One more innovative feature that is unique to this platform is the ability to pause the exam for a particular student. This ensures that the student gets the right amount of time to finish the exam if such a need arises. 

The software also allows teachers to leave feedback for students while grading their papers. This helps the students get valuable insights on how to improve their scores and performance in the examination. 

The interactive platform also allows teachers to track each student's performance over time. This helps teachers chart out a customized plan for each student to help them excel. It also helps them figure out if a student is lacking in a particular subject or area. 

Schoolzpro has top-notch security features that ensure that the personal data of each student and teacher is secure. All user data is stored on secure servers with an extra layer of protection to make sure that the data is safe at all times. They have also focussed on login security and student sign-ups have to be approved by the school authorities to eliminate fake accounts and mischievous login attempts. 
For a demo, visit their website: https://schoolzpro.com/
SOFTFIXER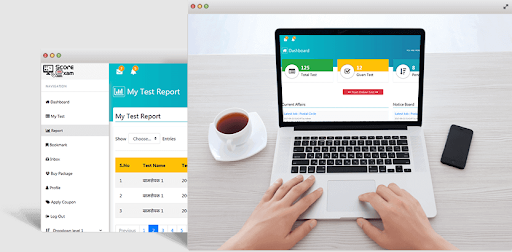 Softfixer provides an online assessment system with the product name of ScoreExam. This examination software comes with a website portal and an Android app that is branded. 
The student management portal allows you to generate detailed analysis reports for teachers, receive notifications by SMS/Email, import students' lists, and so on. 

This software allows you to conduct examinations with different question types including Multiple Choices, Numeric-based, essays with multiple-choice, etc. Support for subjective type exams is currently not available. 

The website portal is protected with a free SSL security certificate and hosting. There is also inbuilt support for all major payment gateways. 

Students can get a 3D graphic report card with class rank, a list of questions attempted with detailed analysis of correct and incorrect attempts, and a comparison chart with top rankers.

ScoreExam also offers an AI-driven self-practice tool that allows students to test their command over various subjects and topics. 

Teachers and school administrators can get an overview of the performance of each student as well as a list of students who didn't attempt the exam, with their contact details. There is also the flexibility to upload questions in bulk from a Word file. 
Creatrix Campus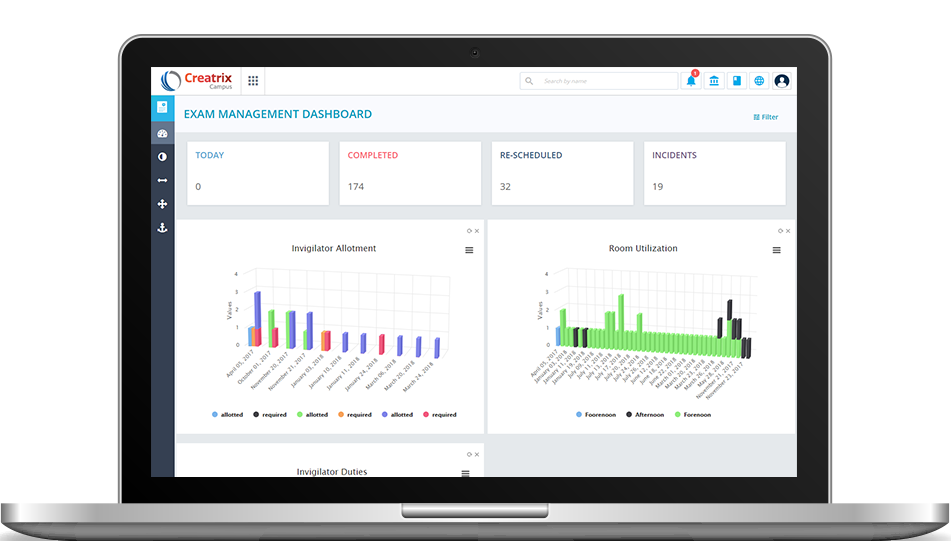 Creatrix Campus is a cloud-based examination management system that is OBE compliant. It is a comprehensive and modern software that saves time by automating the exam process. Creatrix Campus is available on Android as well as on the Web. 
The platform allows students to take their exams online as well as offline. The school administration can save time, cost, and labor as the platform has an option to publish exam results automatically. The pre-exam processing includes the generation of exam timetables and assigning of invigilators. The entire planning and scheduling process can be automated quite easily. The examination system enables teachers and administrators to configure exam types, notify exam schedules to students, and allows students to register for the exam in a swift manner. 
The question papers that are uploaded to the system are completely encrypted to prevent any unauthorized access. The platform gives teachers the flexibility to set up question papers of different types. Different groups can have different question papers with varying levels of difficulty. 

The online platform allows easy registration of students for the exam. The feature of prompt notifications through email ensures that students and invigilators are informed at every stage of the process. 

The software comes with configurable question templates. The teacher has the flexibility to design question papers of different types, including multiple-choice questions, true or false, match-the-following and so on.

The software generates automated attendance reports of students as well as invigilators after each session or in a customized manner. 

The On-Screen Evaluation process allows evaluators to grade papers in a secretive and smooth manner. You can publish the results instantly through the student result management system. 

The software has features that allow administrators to track and capture incidents of student misconduct in real-time. 

It also allows the teachers to get data-driven analytics on the performance of each student. The exhaustive performance reports can be accessed through the Dashboard on the App or Web portal. 
EzExam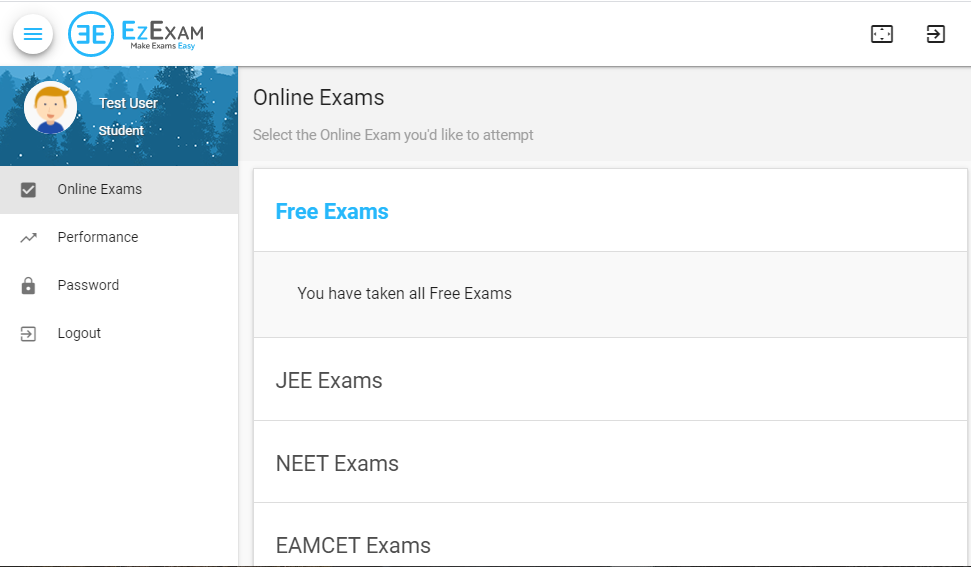 EzExam is a customizable online exam software that can help teachers conduct online as well as offline exams. The online software is suitable for educational institutes and corporates. You can access the platform from any device including laptops, phones, and tablets. 
You can get a customized EzExam portal where admins and students can log in using their phone numbers to access the examination system. Clients can also get a branded Android/iOS application. If you don't avail of any customization, you can access the system free of cost for very limited usage. 

A list of students can be imported through an Excel file and they can log in to the portal using their pre-assigned roll numbers. Logging in to take an exam is not mandatory, however. You can create public exams as well that anyone can access using the link.

Adding and editing question papers is easy and test-takers can create accounts to take online exams. You can import questions from a Word file and convert it into an online exam. The platform support several types of questions including MCQs and numerical questions.

The platform provides a proctored environment that allows teachers to monitor the activity of test-takers in real-time

. There is no restriction on the number of users that can simultaneously take an exam.

The system requires an internet connection only during the start and end of the exam. This ensures a seamless exam environment even when there are connectivity issues. 

After an exam is successfully conducted, admins and test-takers can view the scores and subject-wise and topic-wise detailed analytics to inform the improvement trajectory and plan. 
The benefits of moving to an online assessment environment are innumerable. It makes the life of the examiner easier by ensuring that the integrity of the examination process is always present. The above-mentioned online platforms have the potential to change the face of the evaluation paradigm in the country for good. We hope that our list has helped you in your quest to find the best online examination software that is available in India. If you need help with building a website or a customized platform, check out our services.